Back to top
News and Announcements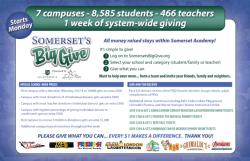 Somerset's Big Give is here!!

Somerset Academy of Las Vegas is a college prep school cultivating effective leaders, good character, and a desire to render service. Although we have only been serving the community for less than a decade, we have grown to 7 campuses with 9770 students and 466 teachers. http://www.givegab.com/campaigns/somersets-big-give

While Somerset Academy receives public funds, we do not receive any facility funding which means we operate our entire system with about 70% of the funds of a typical public school. We believe in keeping class sizes small and creating a great learning environment with exceptional teachers. In order to do this WE NEED YOUR HELP!

100% of your donation (less the platform fees) will stay within the Somerset of Las Vegas system with 80% being directed to classroom needs. The remaining 20% is added to the Somerset Foundation fund to assist with general school needs as they arise.

We want to keep the best teachers and create exciting and dynamic programs for our students and families . With your support we will accomplish our mission.

Thank you for your support!
http://www.givegab.com/campaigns/somersets-bi...